Can Solar Help You Save Money on Gas at the Pump?
Updated: Aug 19
I switched home internet service this weekend. Although I live in a downtown area, my home is in a cul de sac with old infrastructure, so my internet had been cobbled from an old coaxial cable line, only 12 Mbps guaranteed. It was the only option, so I got used to streaming content crashing and the browser not fully loading.
Most frustrating, though, was when the provider raised my rates by more than $20 a month!
Recently, though, fiber came to the neighborhood. With this new, faster, more reliable technology, another provider offered three months free and a regular monthly rate nearly $40 less than my current service, with MUCH higher guaranteed speeds.
Now, I will save $40 a month and receive better service, because of new technology and improved infrastructure, instead of paying $20 more per month for subpar service.
Once I had options, the choice was clear.
The Cost of High Inflation
We are all looking for ways to save money these days. Everything we need keeps getting more expensive, and our wages aren't keeping up.
We are losing money to inflation every month.
According to AP, US Inflation is the highest we've seen in 40 years, including your electricity bill: "Electricity prices surged 4.2% in January alone, the sharpest rise in 15 years, and are up 10.7% from a year earlier." According to The Wall street Journal, the Russian invasion of Ukraine has caused natural gas prices to soar, increasing the cost of electricity bills across the country. The conflict has caused fossil fuel costs to skyrocket around the world, contributing to the increased cost of all goods and services, including utilities.
And nearly 60% of U.S. oil executives are reluctant to increase production to lower costs due to "investor pressure to maintain capital discipline", so costs will continue to rise, and we have no control over it.
In North Carolina earlier this month, Duke Energy requested another usage rate increase, in part to cover the high cost of burning natural gas for electricity. If approved, your electric bill will increase by 9.6% September 1 and adjust to 8.3% January 1: If approved, your electric bill will increase by nearly 7% by next January 1:
The company's other North Carolina utility – Duke Energy Carolinas – made its annual fuel filing in March. The company recently revised its Duke Energy Carolinas filing to reflect a January 2022 under-recovery on fuel costs; if approved by the NCUC, Duke Energy Carolinas residential rates would rise 9.6% in September to adjust for fuel and renewable energy programs, then decrease 1.3% on Jan. 1 when energy efficiency and demand management adjustments kick in.
.
Over the past 12 years, Duke Energy has raised rates in North Carolina at an average of 4.7%. Last June, Duke raised residential rates 5.3%, higher than the historical average. State regulators approved this rate increase request because it is earmarked to pay for the state's energy infrastructure expansion and upgrades, including replacing coal burning plants (a response to Duke Energy's coal ash spill into the Dan River in 2014) with cleaner and cheaper natural gas burning power plants.
Now, Duke Energy plans to raise your rates another 6.94% to adjust for the rising cost of that natural gas.
In other words, if your average monthly Duke Energy bill was $150 in 2021:
In 2010, your average bill would have been $84

This year, your average bill is $157.95

Next year, it will be $168.91

In 2030, at a continued average rate increase of 4.7% per year, it will be $216.60 a month.
But this year's rate increase, if approved, will be nearly 7%. In 2030, at an annual rate increase of 6.94%, your monthly average Duke Energy bill of $150 will increase to more than $256, and your electricity costs will jump from $1,800 to more than $3,000 a year!
And that does not include "add-ons", the non-regulated fees added to your monthly bill on top of usage rates: As IndyStar explains, "Even though these add-ons constitute an increase in a customer's bill, they are approved without having to go through the stringent process involved with increasing rates." In other words, regulators allow facility cost increases without oversight, which means your power bill goes up even more than the usage rate increases.
It's like my $50 a month internet bill going up to $75 a month without an improvement in service. The same thing just starts costing more, and there's nothing we can do about it.
Lower Costs with New Technology
Just like the infrastructure upgrade in my neighborhood made the cheaper, more reliable option of fiber available for me, new technologies can present alternatives to burning expensive fossil fuels for energy, and provide more reliable, cheaper energy for your home. Duke Energy's Net-Zero goal seeks to reduce carbon emissions from energy generation by 50% in 2030, and to "net-zero" by 2050. Currently, energy production accounts for about 35% of all carbon emissions in North Carolina, the largest single source for the state. Duke Energy's goal requires an investment in infrastructure upgrades and investment in renewable sources like solar farms across the state.
This investment will save Duke Energy money in the long run, as it is estimated that the U.S. would save $5.6 billion per year by switching energy production to renewable energy, even without government subsidies for renewables.
As investment in new technology increases and the cost of new technology lowers, it becomes more viable to switch from fossil fuels to renewable energy to protect ourselves from inflation. Duke Energy is not likely to pass the company's savings on to us, but, by investing in solar, you can save money on your monthly utility costs.
Saving Money with Solar
For qualifying homes, solar cuts average monthly energy costs by 30%-60%, depending on your overall usage. And the rate is static, which provides a fixed cost and protects you from rising costs due to inflation and Duke Energy's rising rates.
Just like switching to new technology is immediately saving me as much as $25 on my internet service costs, adding solar to your home is likely to save you enough money each month to pay for a full tank of gas.
And who among us would not want a free tank of gas each month right now? That is an instant, valuable benefit!
Best of all, Duke Energy wants customers to go solar! The Net-Zero Plan is aggressive, and will require a massive investment that can be offset by consumers adding solar to their homes. For this reason, Duke Energy offers one of the most financially beneficial net metering programs in the country, to help make solar affordable for you.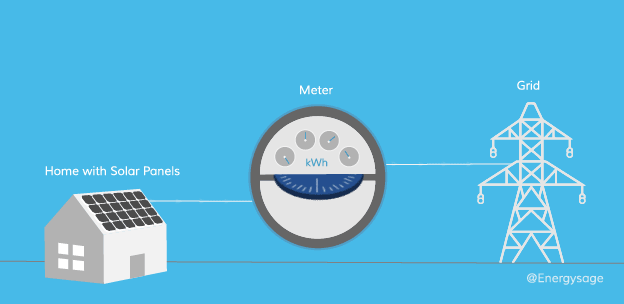 With net metering, your solar panels will produce more energy than you need during the day, sending the extra electricity to the grid, to be sold to other homeowners and businesses. Duke Energy provides a credit for this energy, which you use to "pay" for electricity from the grid at night, when the panels are not producing energy. This reduces your utility bill and saves you money on electricity costs.
Additionally, Duke Energy presented an updated net metering plan (NEM) to regulators to provide higher compensation for homeowners with solar, passing the cost of net metering to all Duke Energy customers, as an incentive for customers to go solar:
The addition of rooftop solar under NEM and a simple two-part rate design reduces billed energy usage significantly, but demand is reduced to a lesser extent. This results in NEM customers having larger bill reductions than are justified by the smaller reduction in the cost to serve them. Ultimately, the net revenue shortfall from NEM is socialized and collected from all customers after each rate proceeding. The proposed NEM Tariffs resolve this issue in compliance with H.B. 589.
By assisting Duke Energy's Net-Zero Plan, homeowners with solar help reduce carbon production in the state, our reliance on natural gas, and the cost of infrastructure upgrades. By switching to solar, homeowners save at least enough money each month to fill up at the pump for free. By owning solar panels, you never have to worry about your electricity bill going up again, which protects you from rising inflation. And, with upcoming changes to Duke Energy's net metering plan, you may see even greater savings with solar.
So sure, solar saves you money at the gas pump; and so much more!
If you're interested in learning more and exploring solar options for your home, please contact me for a free consultation. We will review your electric bill, your home's energy efficiency, and potential solar array designs for your home. I will answer all questions and help you make the best decision for your family.
Jamie Duncan, Solar Consultant, Charlotte-Mecklenburg, Cabarrus County, Iredell County, Union County, Gaston County, Lincoln County, Catawba County
#solar #solarenergy #inflation #homeowner #realestate #clt #charlotte #charlottenc #lkn #huntersville #huntersvillenc #cornelius #corneliusnc #davidson #davidsonnc #denvernc #mooresville #mooresvillenc #troutman #troutmannc #statesville #statesvillenc #mecklenburgcounty #cabarruscounty #iredellcounty #unioncounty #gastoncounty #lincolncounty #catawbacounty